Maria Old Age Home
Location:Trichy
Client: Gabriel
Area: 15000 SQFT
Project team: Santhosh,Raja krishnan,Ismail,Bala subramaniam
Year:2015
Trichy with its central location, religious monuments, cost of living, makes it an ideal city for a retirement community. The Angelica Clarac Trust that comprises of christian sisters had envisioned a retirement home that's affordbale, with no compromise of the quality of life and ambience.
The site, sized at around 2 acres is located near Samayapuram, off the Trichy - Chennai highway. We started the development on Northwest corner of the site, to accommodate future expansion towards the main road. There is a canal at the Northern side of the site, running parallel to the site periphery. Our building is oriented such that all the windows and openings are at the North and southern directions. We have consciously provided minimum perforation on the East-west side.
The Retirement Home is a G+2 structure, housing 50 individual fully furnished suites with an attached toilet. All the amenities such as, multipurpose hall, meditation space, gym, physiotherapy and infirmary are located in the ground floor for easy access. Every floor has an additional community space. Each floor also houses common balconies promising of different views of the entire site.
Copious lighting is addressed throughout the building, allowing natural light to permeate through the open corridors.The RCC strucuture has exposed fly ash bricks. A specific brick bond was developed at site to avoid cutting of bricks at window jambs. Columns and beams were recessed to form a continuous brickwork wrapping around the building emphasizing the sill, lintel and roof slabs.
A lot of space has been given for landscaping, which blends with walking space. Walking tracks are also provided at the terrace, with views of the city's landmarks.The entire project was done with the use of local materials, on a tight budget of low cost without compromising the spacial quality.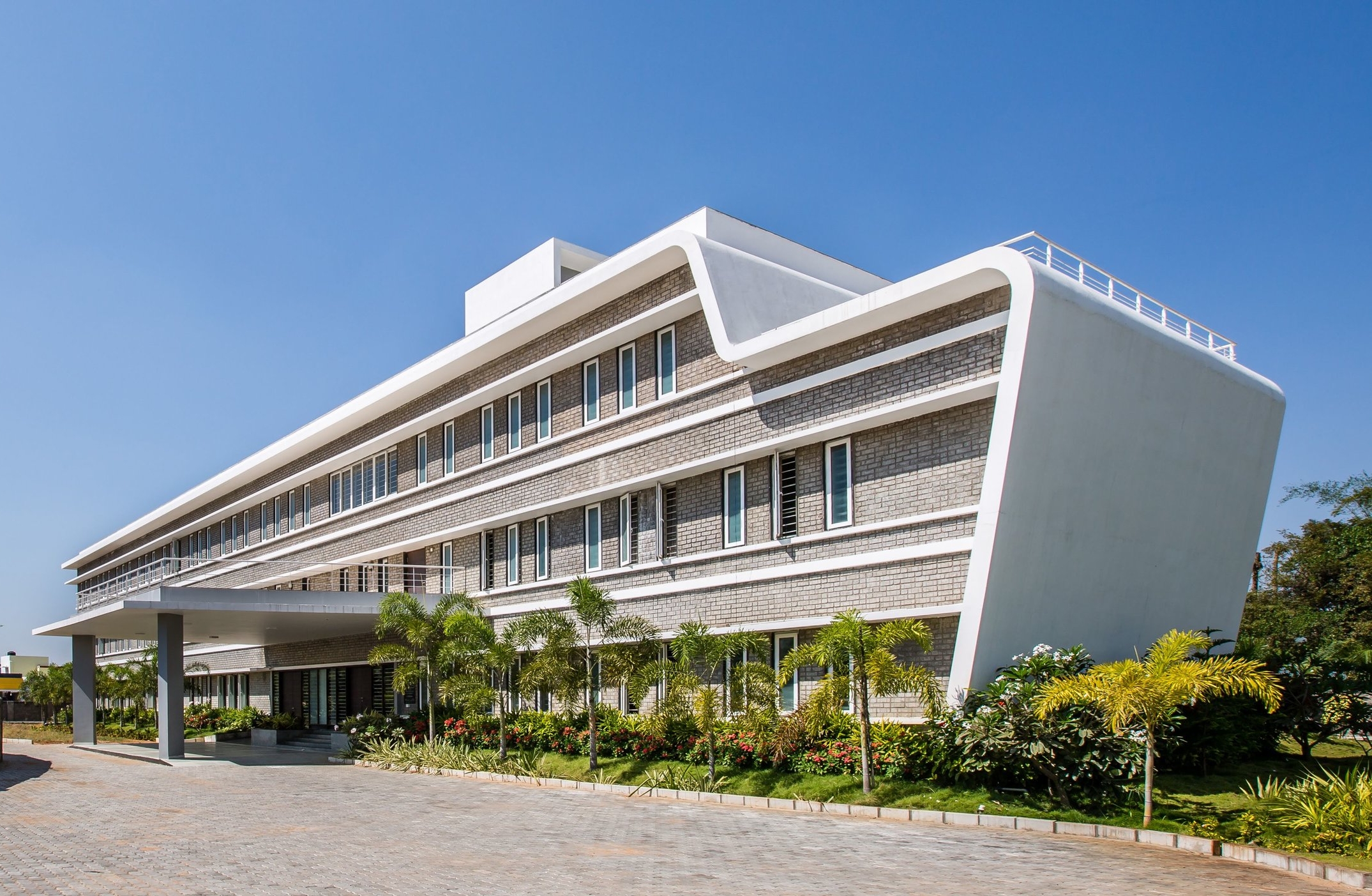 A specific brick bond was developed at site to avoid cutting of bricks at window jambs